At INFINITI of Englewood, we are committed to putting the highest quality certified vehicles on the road.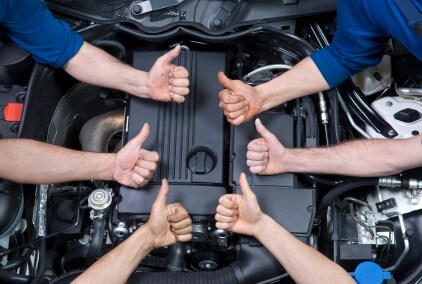 Each certified used vehicle must meet or exceed an intensive 160-point Quality Assurance Inspection, which includes mechanical, detailing, and appearance standards. Our goal is to ensure that every "Nearly New Vehicle"  has that like-new look and feel that you would expect in a PLATINUM CHECK vehicle.
Our factory-trained technicians complete any necessary repairs and reconditioning before we call the vehicle "PLATINUM CHECKED". Every PLATINUM CHECKED vehicle comes with a CARFAX® Vehicle History Report to ensure it's worthy of the certification process. 
That means you can enjoy the peace of mind that comes with owning a "PLATINUM CHECKED" USED VEHICLE.
CARFAX Vehicle History Report
During the certified inspection process, our certified mechanics will comb over the details of the car's CARFAX vehicle history report to make sure that it has not incurred water damage, fire damage, major collision damage, or any other type of damage that could affect the car's future reliability. Certified mechanics will also pore over the history report to make sure that the car has been maintained properly. If you want to look over the report too, We  will be happy to provide you with one, free of charge.
Mechanical Inspection
The inspection process includes looking at the car's underbody, powertrain, drivetrain, tires, electronics, and more are checked to be sure that everything is in excellent condition. Our mechanics will even take the car for a thorough test drive to ensure that its road manners are up to par with that of a new car. If anything is not as it should be, our mechanics will fix the issue by refurbishing that
Detailing and Appearance Inspection
To make sure that the vehicle looks as good as it drives, mechanics examine the interior and exterior and check to see that all of the details are exactly as they should be. As with the mechanical inspection, anything that feels or looks less than new will be refurbished and reconditioned.
The Bottom Line

Here's the bottom line, at NJ INFINITI of Englewood, we strive to get the car as close to the manufacturer's specification as possible. So you can be confident that you are buying a safe & reliable New Jersey preowned vehicle.